Since 1914, NEUERO has been a leading manufacturer of mechanical and plant engineering.
NEUERO is the world's specialist for pneumatic ship unloading and mechanical ship loading.
NEUERO follows the "Made in Germany" tradition with more than 100 years of activity in the production of reliable and individualised conveyor systems.
Our goal is to offer the best ship loading and unloading in the world to make it easier for our customers to work at ports and to ensure the supply of goods worldwide. With over 5000 built references in over 140 countries, NEUERO is a leading manufacturer of ship loading and unloading. Several tons of grain are handled worldwide with NEUERO machines every hour.
NEUERO's machines are characterized by advanced, efficient, reliable and user-friendly design. The systems have the lowest maintenance and operating costs and thus ensure a fast return on investment. All advantages of NEUERO's systems, as well as comparisons between pneumatic and mechanical discharge can be found under the following Link.
Neuero has been a leading manufacturer of mechanical and plant engineering since 1914. NEUERO stands for mechanical engineering, innovation and maximum customer benefit.
Our ship loaders and unloaders set standards worldwide. They protect the environment as well as the health and safety of employees (EH & S) through their innovative technologies.
NEUERO is ISO certified and has guidelines on work safety, health and the environment. More than 300 customers already rely on NEUERO's expertise. Continuous unloading performance, even during residual cleaning. Less dust during loading with our special engineered loading head and noise reduction through our insulated machine houses. Our lightweight design make NEUERO's machines very safe and environmentally friendly for handling.
Do you need more information or would you like to receive a quote? We look forward to getting in touch with you.
---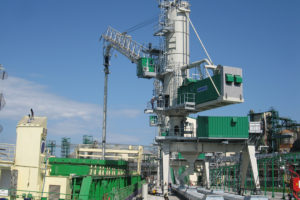 Suitable for unloading many types of bulk goods, especially from the food sector, as well as for products from the power plant and aluminum industry.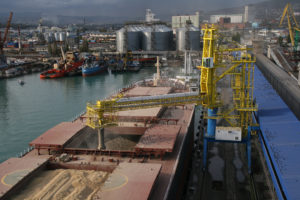 Can be used to load all kinds of dry bulk materials, especially from the food sector, but also for products from the fertilizer and power plant industries.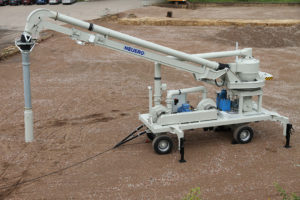 NEUERO's mobile pneumatic conveyor systems (type GSD) are designed to load and unload grain at an output of between 10-150 t/h.
Key Advantages
Continuous unloading capacity,even during residual cleaning.
Almost dust-free loading through our special loading head and reduced noise with our insulated machine houses.
Due to our lightweight design, our machines are very safe to handle
Quick Intro
More than