Pneumatic ship unloaders for food, biomass and other bulk materials
NEUERO designs pneumatic ship unloaders for grain, feed, biomass, and many other dry bulk materials according to customer requirements. Can be used to unload many types of bulk goods, particularly from the:
food sector
as well as for products from the power plant
and aluminum industry
NEUERO designs are unique and tailored to the customer's requirements and local conditions. NEUERO distinguishes between three types:
Multiport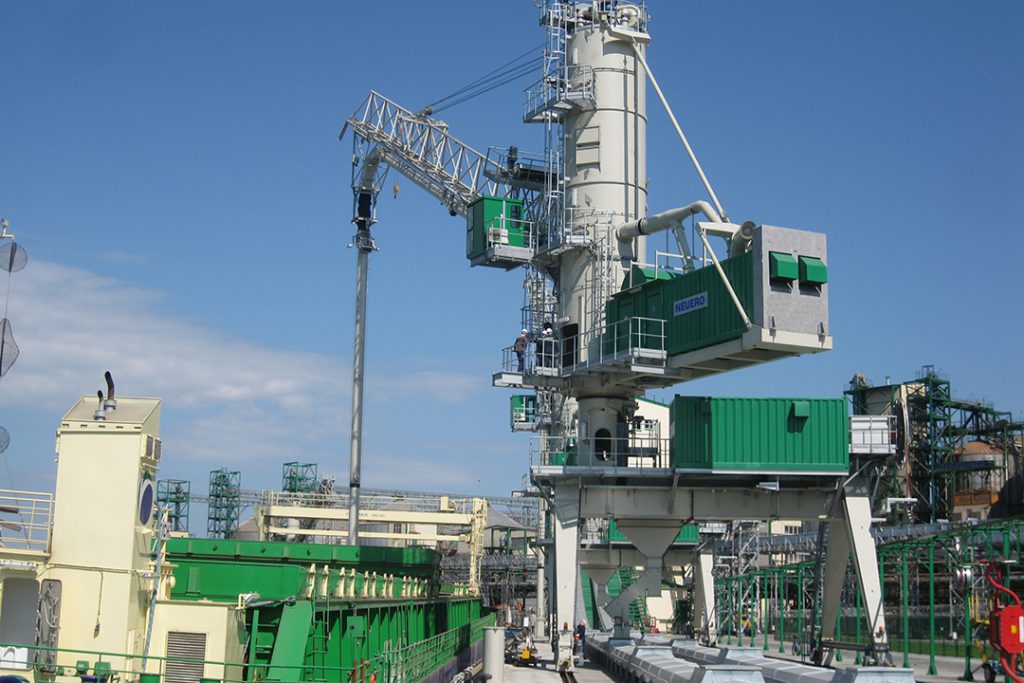 Unloading capacity up to 800 t/h, based on wheat
Supply via the low or medium voltage
Use of diesel generators possible
Stationary, rail or rubber-tired steerable wheels
Broad coverage of the ship's hold by horizontal and vertical telescopic tube
Auxiliary winch for residual cleaning on the boom for an excavator or front loader
If necessary, with explosion protection concept following ATEX guidelines
Flexiport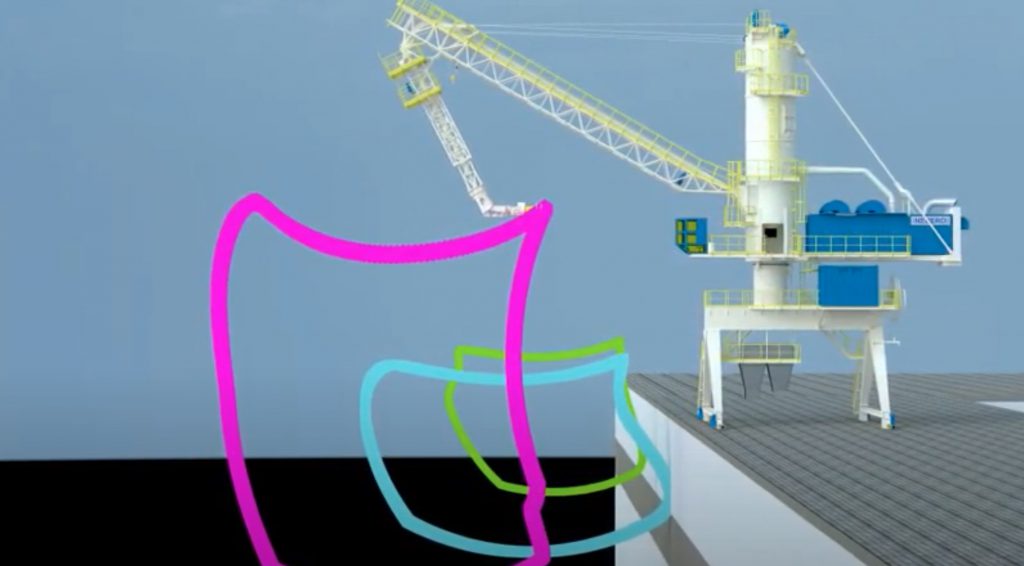 pneumatic ship unloading for non-free-flowing materials
the vertical tube can be equipped with a rotating feeder to loosen up the product
full coverage of the ship's hold due to additional extending and kick-in-kick-out movement of the vertical boom
Tower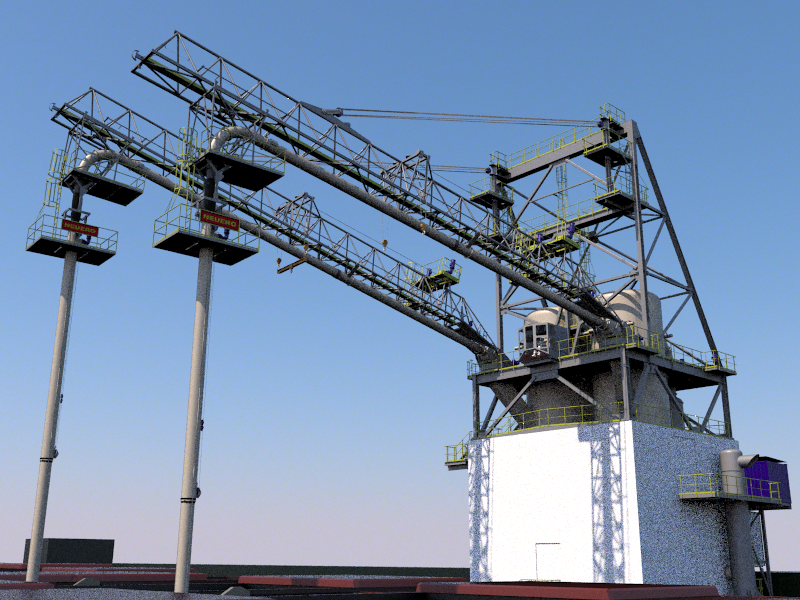 Unloading services of up to 1,600 t/h, based on wheat
movable on rails
Optional with a loading boom
Integrated auxiliary winch per boom
Two separate suction lines (50% each)
Integration of various conveyor elements, such as container scales, magnetic separators, etc.
Special Features
Automatic Suction Nozzle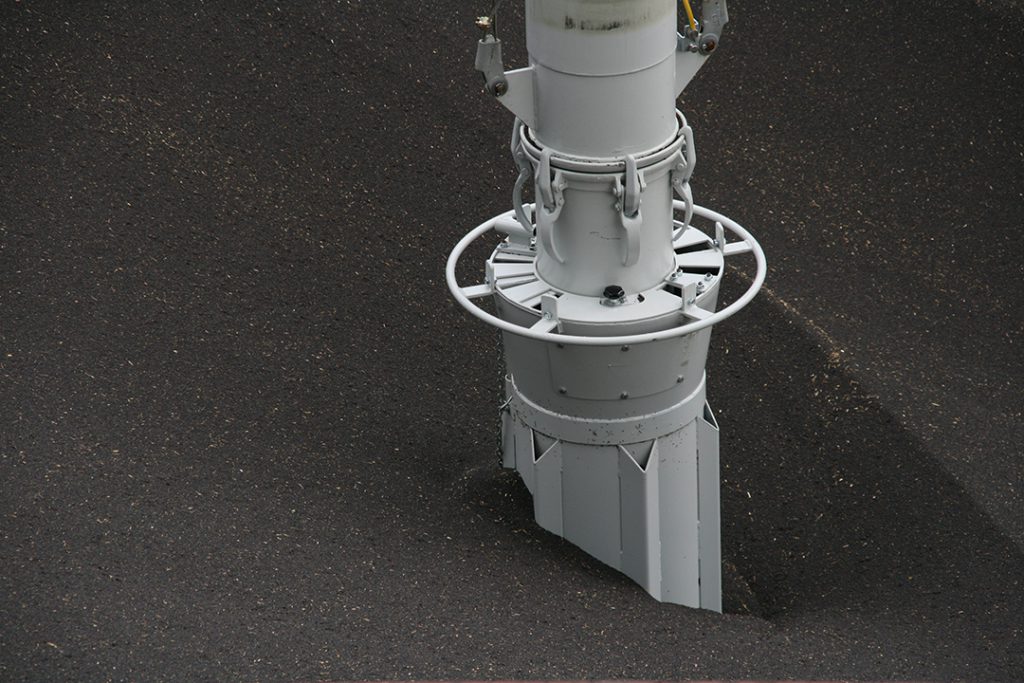 The NEUERO suction nozzle is characterized by an automatic electric side air control system, which allows the unloading power to be perfectly adjusted to the conveyed product and operating conditions.
In addition, an automatic nozzle lowering can be used. This controls the immersion depth of the nozzle depending on the vacuum and thus ensures continuous suction operation with high average power.
Boom Lowering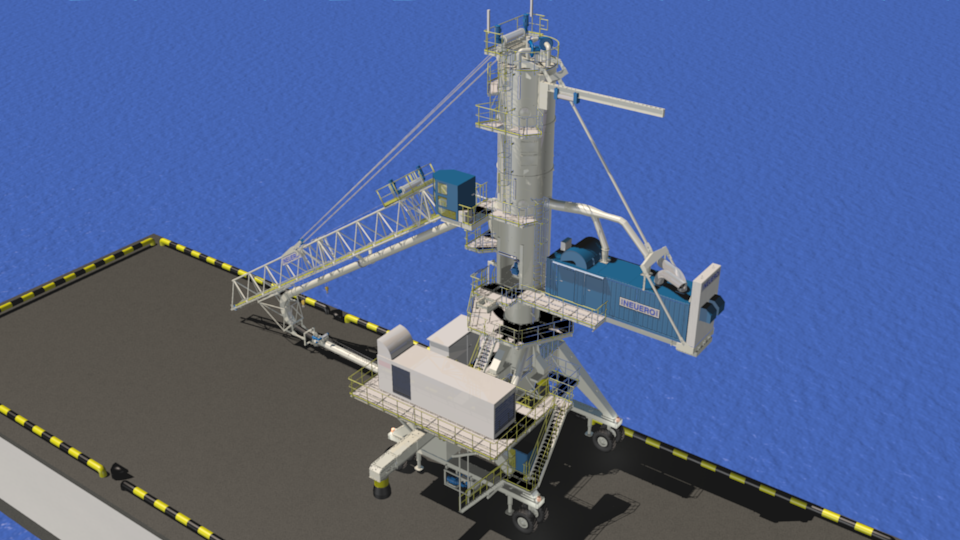 The possibility to lower boom to the ground offers a special advantage in the maintenance and possible replacement of individual parts, e.g. wear plates in the conveying elbow, rope winches, rope rolls, etc. This avoids any sometimes harmful work at high. Lower boom to ground also reduces wind loads during typhoon.
Auxiliary Winch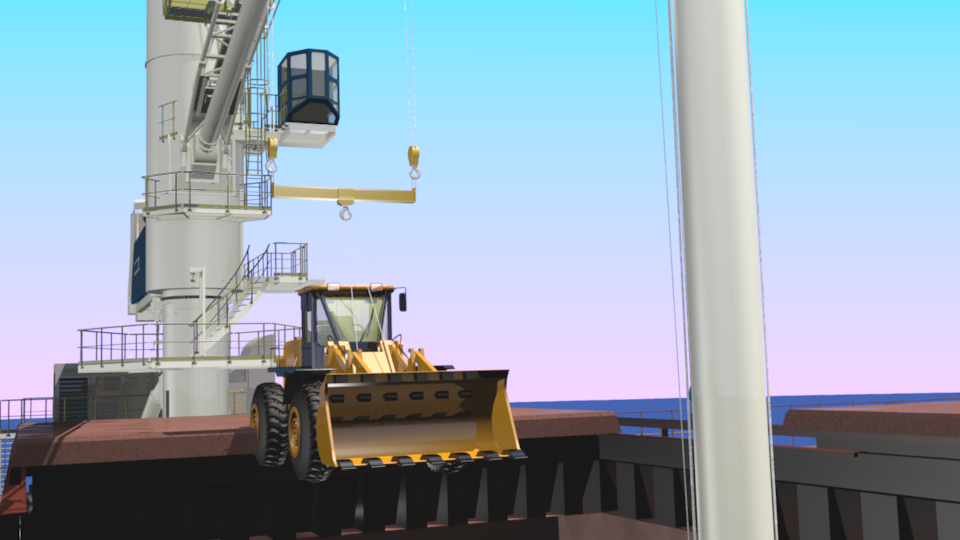 With the auxiliary winch on the boom, a small front loader (e.g. bobcat) or larger track excavators weighing up to 15.0 tons can be lifted into the ship's hold to support the residual cleaning. The winches operate at 2 speeds and are protected by load cells.
Milling Head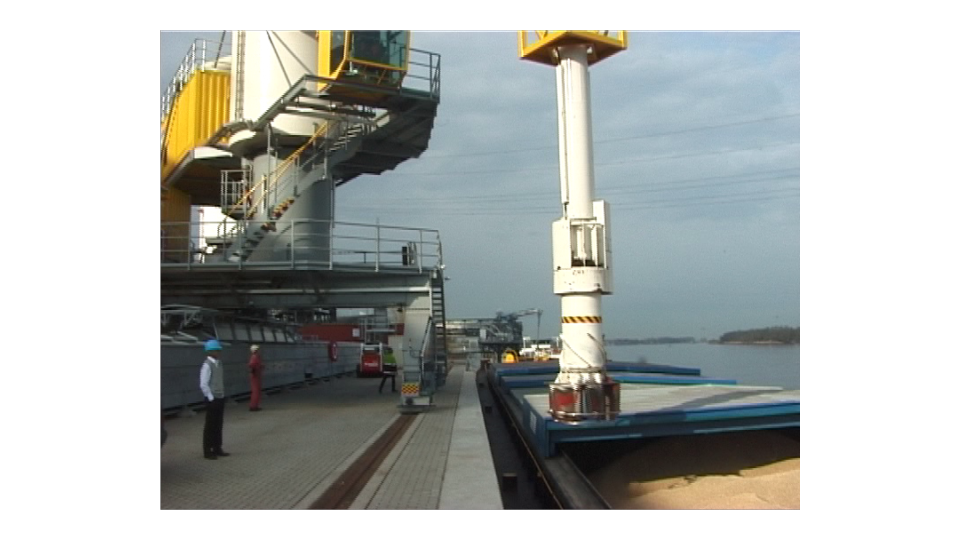 Upper swivel device with swivel bearing and external toothing as well as slewing gear drive, swivel range approx. 300 °
Kick-in/kick-out using cylindrical joint and hydraulic cylinders with up to 60 ° deflection
Lower intake area with axial bearings and cutter, rotary bearings with electric swivel drive and bypass for suction wiring.
With speed control of the cutter for better material flow control.
Includes a special nozzle for residual cleaning.
Augmented Reality App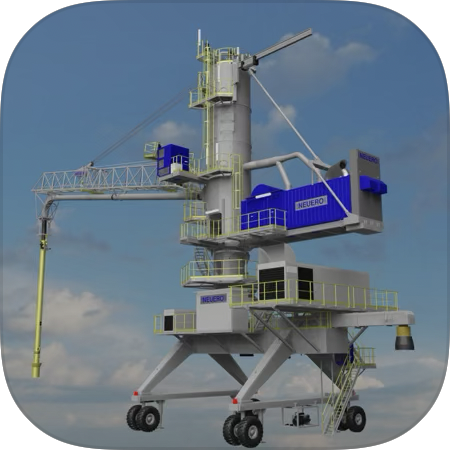 To activate the AR content tap the screen when the focus square is aligned to the ground. In the startup screen you can choose the scale: when it is 1:1 you find yourself at the bottom of the machine and need to target the camera upwards to see it.
The augmented reality simulator of NEUERO heavy-duty rubber-tired Mutiport ship unloader demonstrates it's high driving maneuverability and ability to unload the last grain from the ship's hold with the use of a bulldozer.
The Multiport is equipped with an on-board diesel generator and a service crane that brings 16 tons bulldozer into the hold for cleanup activities.
The model used for this simulator has a 30 meter suction boom, a wheel track of 9.5 meters and a wheel base of 10 meters.
With this simulator you can explore the inside of the machinery house with NEUERO turbo blowers, NEUERO automatic filter cleaning system, test drive and unload virtual grain using virtual thumb sticks: left for manipulating the boom and right for manipulating the pipes.